Product Description :
The AirFree? vent is designed to help your baby swallow less air. The teat stays full of milk, even when horizontal, for upright feeding. Reducing the air a baby ingests can help ease common feeding issues like colic, gas and wind.
Key Features :
Designed to reduce most common feeding issues: colic, gas, and reflux

AirFree vent keeps nipple full of milk, not air

AirFree vent is one piece, easy to clean

A range of flow rates are available for your growing baby. This bottle includes a 0month+ Newborn nipple (Size 1)

Philips Avent is the #1 brand recommended by moms worldwide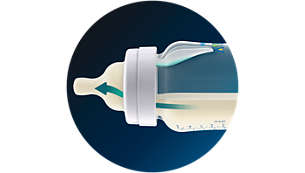 Locks milk in, keeps air out, for easy upright feeding
The teat stays full of milk, even when the bottle is horizontal, so your baby can drink in a more natural, upright position. This can help reduce reflux, aid digestion, and make feeding time more comfortable for you and your little one.
Teat stays full of milk, not air
Our unique AirFree? vent draws air away from the teat, so your baby swallows less air as they drink. This can help reduce common feeding issues such as colic, reflux and wind.
Anti-colic system proven to reduce colic and fussing*
Clinical studies have shown that the Philips Avent bottle reduces colic and fussing*. In addition, the valve in the teat prevents vacuum build-up. This means that the air stays in the bottle, away from your baby?s tummy.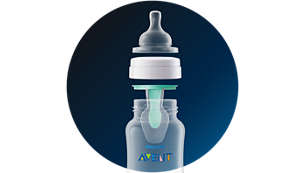 Easy to clean & assemble, as AirFree? vent is a single piece
The AirFree? vent can be easily assembled with any Philips Avent Anti-colic and Classic+ bottle. Also cleaning is a breeze, thanks to the bottle's wide-neck, and there only being a few parts to clean.
COUNTRY OF ORIGIN : UNITED KINGDOM
Importer Details: Philips India Ltd.